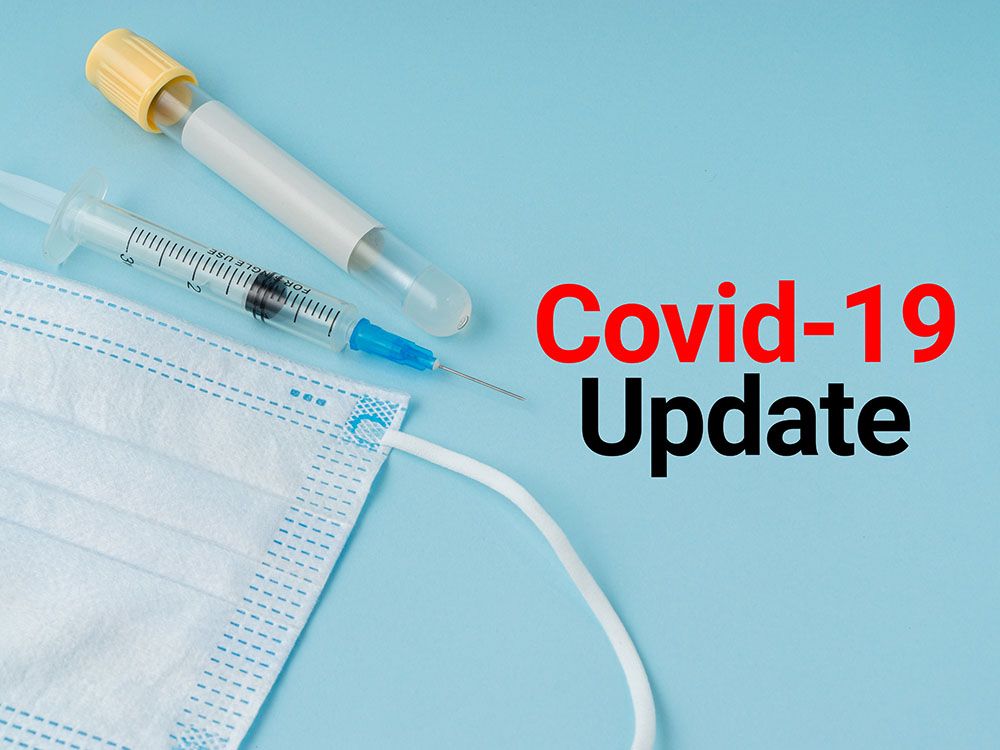 COVID update for Dec. 22-28: Here's what you need to know this week
Here's your weekly update with everything you need to know on the COVID situation in B.C. and around the world.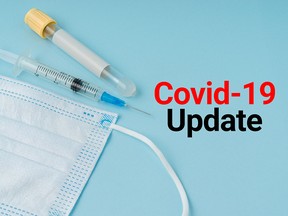 Article content
Here's your update with everything you need to know about the COVID situation in B.C. and around the world for the week of Dec. 22-28. This page will be updated with the latest COVID news and related research developments daily throughout the week, so be sure to check back often.
Article content
You can also get the latest COVID-19 news delivered to your inbox weeknights at 7 p.m. by subscribing to our newsletter here.
Article content
---
Here are the latest weekly B.C. figures given on Dec. 22:
• Hospitalized cases: 349 (down 25)
• Intensive care: 35 (up four)
• New cases: 609 over seven days ending Dec. 17 (down 50)
• Total number of confirmed cases: 391,897
• Total deaths over seven days ending Dec. 17: 22 (total 4,806)
Read the full report here | Next update: Dec. 29
---
LATEST NEWS
Number of deaths decreases slightly
A weekly COVID update from the B.C. Centre for Disease Control revealed 22 deaths of people who died within 30 days of a positive COVID test as of Dec. 17, a drop of five from the previous week.
That number is preliminary, however, and will be updated in later reports as more data comes in.
Article content
There were 349 people in hospital who tested positive for the virus, with 35 of those in intensive care, as of Thursday.
Three out of 10 Canadians say they wear masks in public: Study
Three out of 10 Canadians say they mask-up in public, according to a new Angus Reid Institute study.
It says a large group of unmasked Canadians say they wouldn't like the government to force them to take a more cautionary approach.
Half of Canadians are in favour of re-implementing mask mandates if cases of COVID-19 go up this winter.
Thirty-one per cent of people in the study say they wear a mask more than half of the time in public.
Read the full story here.
Health Canada monitoring massive outbreak 'starting to rip through' China
Health Canada says it's monitoring the growing wave of COVID-19 cases in China, which experts are warning could kill a million people in the next few months, as the country allows the virus free rein.
Article content
China has done a dramatic U-turn in recent weeks, ending its zero-COVID policy that required regular COVID tests, mandatory quarantine and sweeping, restrictive lockdowns to control the virus.
Dr. Isaac Bogoch, an infectious disease physician at Toronto's University Health Network, said ending the zero-COVID policy, especially in a population with lower vaccine rates, will mean a wave of new infections.
"They don't have the same degree of community-level protection that other parts of the world have, either through vaccination, through recovery from infection or from both," he said. "What we're seeing obviously, very sadly, is that, you know, the virus is starting to rip through populations."
Read the full story here.
Article content
— The Canadian Press
China hospital data absent from WHO's latest COVID reports, raising concern
The World Health Organization has received no data from China on new COVID-19 hospitalisations since Beijing lifted its zero-COVID policy, prompting some health experts to question whether it might be hiding information on the extent of its outbreak.
However, the WHO has said gaps in data might be due to Chinese authorities simply struggling to tally cases.
WHO weekly reports showed rising hospitalisations for COVID-19 in China running up to Beijing's Dec. 7 decision to ease restrictions on movement that were meant to stamp out any transmission of the virus but which prompted extraordinary public protests and hobbled the world's second largest economy.
Article content
They peaked at 28,859 through to Dec. 4, according to a WHO graph, the highest reported figure in China since the virus first emerged three years ago, but figures have been absent in the last two reports.
— Reuters
Regular exercise protects against fatal COVID, study shows
Men and women who worked out at least 30 minutes most days were about four times more likely to survive COVID-19 than inactive people, according to an eye-opening study of exercise and coronavirus outcomes among almost 200,000 adults in Southern California.
The study found that exercise, in almost any amount, reduced people's risks for a severe coronavirus infection. Even people who worked out for as little as 11 minutes a week — yes, a week — experienced lower risks of hospitalization or death from covid than those who moved about less.
Article content
"It turns out exercise is even more powerful than we thought" at protecting people from severe covid, said Robert Sallis, a clinical professor at Kaiser Permanente Bernard J. Tyson School of Medicine in Los Angeles and senior author of the new study.
The findings add to mounting evidence that any amount of exercise helps lower the ferocity of coronavirus infections, a message with particular relevance now, as holiday travel and gatherings ramp up and COVID cases continue to rise.
Read the full story here.
— The Washington Post
Immunity debt is not a myth: Why it seems like everybody is sick right now
Although Canada has never maintained a running tally of seasonal illnesses, it's clear that the country is being absolutely hammered by a tidal wave of flu and respiratory viruses right now.
Article content
Children's hospitals have been overwhelmed since Halloween with what one Montreal physician has described as an "explosive" flu season. The country's critical shortage of childhood cold medication also continues apace, with Health Canada now saying the backlog won't fully clear until sometime in 2023.
There is compelling evidence that much of this sickness is a side effect of COVID restrictions — although there remain members of the medical community who are resolutely claiming otherwise.
The basic idea is that social distancing, masking and school closures not only slowed the circulation of COVID-19, but also curbed the usual spread of illnesses such as the flu, respiratory syncytial virus (RSV) and common cold. And now, with civil society reopened, all these seasonal viruses are playing a vicious game of catchup.
Article content
Read the full story here.
— Tristin Hopper
China's COVID wave spurs fears that dangerous new variant could emerge
The tsunami of COVID-19 that's taking hold across China is spurring concern that a dangerous new variant could emerge for the first time in more than a year, just as genetic sequencing to catch such a threat is dwindling.
The situation in China is unique because of the path it's followed throughout the pandemic. While almost every other part of the world has battled infections and embraced vaccinations with potent mRNA shots to varying degrees, China largely sidestepped both. The result is a population with low levels of immunity facing a wave of disease caused by the most contagious strain of the virus yet to circulate.
Article content
The expected surge of infections and deaths are taking hold in China within a black box since the government is no longer releasing detailed COVID data. The rise has medical experts and political leaders in the U.S. and elsewhere worried about another round of disease caused by the mutating virus. Meanwhile, the number of cases sequenced globally each month to find those changes has plunged.
"There will certainly be more Omicron subvariants developing in China in the coming days, weeks and months, but what the world must anticipate in order to recognize it early and take rapid action is a completely new variant of concern," said Daniel Lucey, a fellow at the Infectious Diseases Society of America and professor at Dartmouth University's Geisel School of Medicine. "It could be more contagious, more deadly, or evade drugs, vaccines and detection from existing diagnostics."
Article content
Read the full story here.
— Bloomberg News
---
What are B.C.'s current public health measures?
MASKS: Masks are not required in public indoor settings though individual businesses and event organizers can choose to require them.
Masks are also encouraged but not required on board public transit and B.C. Ferries, though they are still required in federally regulated travel spaces such as trains, airports and airplanes, and in health care settings.
GATHERINGS AND EVENTS: There are currently no restrictions on gatherings and events such as personal gatherings, weddings, funerals, worship services, exercise and fitness activities, and swimming pools.
There are also no restrictions or capacity limits on restaurants, pubs, bars and nightclubs; and no restrictions on sport activities.
Article content
CARE HOMES: There are no capacity restrictions on visitors to long-term care and seniors' assisted living facilities, however, visitors must show proof of vaccination before visiting. Exemptions are available for children under the age of 12, those with a medical exemption, and visitors attending for compassionate visits related to end-of-life.
Visitors to seniors' homes are also required to take a rapid antigen test before visiting the facility or be tested on arrival. Exemptions to testing are available for those attending for compassionate visits or end-of-life care.
---
How do I get vaccinated in B.C.?
Everyone who is living in B.C. and eligible for a vaccine can receive one by following these steps:
• Get registered online at gov.bc.ca/getvaccinated to book an appointment in your community.
• Or, if you prefer, you can get registered and then visit a drop-in clinic in your health authority.
• The system will alert you when it is time to go for your second dose.
• The same system will also alert you when it is time for your booster dose.
Article content
---
Where can I get a COVID-19 test?
TESTING CENTRES: B.C.'s COVID-19 test collection centres are currently only testing those with symptoms who are hospitalized, pregnant, considered high risk or live/work with those who are high risk. You can find a testing centre using the B.C. Centre for Disease Control's testing centre map.
If you have mild symptoms, you do not need a test and should stay home until your fever is gone. Those without symptoms do not need a test.
TAKE-HOME RAPID ANTIGEN TESTS: Eligible British Columbians over the age of 18 with a personal health number can visit a pharmacy to receive a free take-home test kit containing five COVID-19 rapid antigen tests.
---
More news, fewer ads: Our in-depth journalism is possible thanks to the support of our subscribers. For just $3.50 per week, you can get unlimited, ad-lite access to The Vancouver Sun, The Province, National Post and 13 other Canadian news sites. Support us by subscribing today: The Vancouver Sun | The Province.
B.C. government continues the pandemic wage top-up for care home workers

The viral immunity debate has no simple answer — but masks make a difference, says researcher

UBC researchers discover compound that could halt colds, COVID

Holiday parties are back as British Columbians tap a need to be together